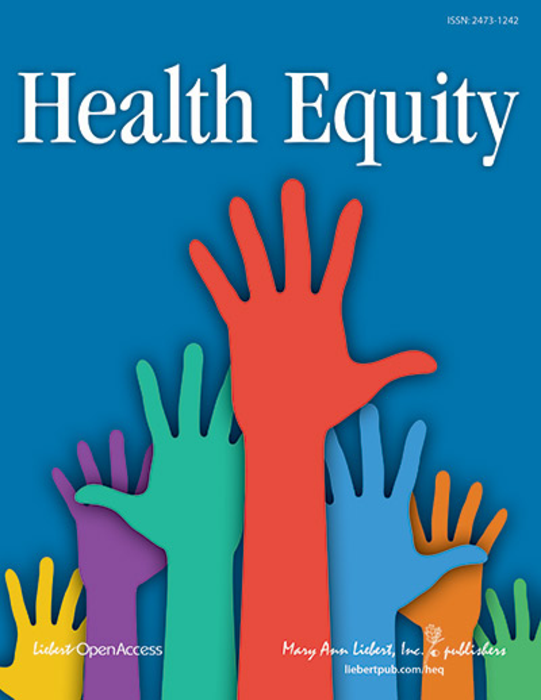 New Rochelle, NY, March 16, 2022 –Health Equity, the leading peer-reviewed open access Journal that meets the urgent need for authoritative information about health disparities and health equity among underserved and vulnerable populations, is excited to announce that it is now the official Journal of the National Collaborative for Health Equity.
The mission of the National Collaborative for Health Equity is to promote health equity by fostering racial healing, harnessing research, data and information systems, developing leaders, and catalyzing partnerships across the many different sectors that share responsibility for creating a more equitable and just society.
Health Equity will support this mission through publishing high-quality, peer-reviewed research ranging from translational research on social determinants of health, and all aspects of healthcare and public health, including prevention, disease management and wellbeing. The Journal serves as a primary resource for organizations and individuals who serve these populations at the community, state, regional, tribal, and national levels.
"We are excited to embark on this new partnership with the National Collaborative for Health Equity which allows for broader dissemination of open access content," says Editor-in-Chief Monica R. McLemore, RN, PhD, FAAN. "I look forward to working with the team at the Collaborative to ensure culturally and scientifically rigorous work is elevated and disseminated to assist clinicians, public health practitioners, policy makers, funders, and students to change the future." 
 "For decades diverse clinicians, scholars, researchers and advocates have helped drive progress in addressing health inequities. We hope this important new partnership provides a needed platform for more of these vital voices, thereby accelerating the pace of progress in improving health and well-being.  The pandemic has demonstrated the urgency and imperative for achieving health equity" Dr. Gail C. Christopher.
About the Journal
All articles in Health Equity are published open access under the CC-BY or CC-BY-NC licenses to ensure broad and rapid distribution and visibility of meaningful health disparities and health equity research.
About the National Collaborative
Officially launched in 2014, National Collaborative for Health Equity builds on 18- years of comprehensive efforts to advance health equity.  The National Collaborative was established to promote health and racial equity through action, leadership, and collaboration. Health equity, in our view, requires creating the conditions that foster the best possible health for all populations, regardless of race, ethnicity, socioeconomic status, or nativity.
About the Publisher
Mary Ann Liebert, Inc., publishers is known for establishing authoritative peer-reviewed journals in many promising areas of science and biomedical research. A complete list of the firms more than 100 journals, books, and newsmagazines is available on the Mary Ann Liebert, Inc., publishers websi
---
Method of Research
Case study
Subject of Research
People
Disclaimer: AAAS and EurekAlert! are not responsible for the accuracy of news releases posted to EurekAlert! by contributing institutions or for the use of any information through the EurekAlert system.
link